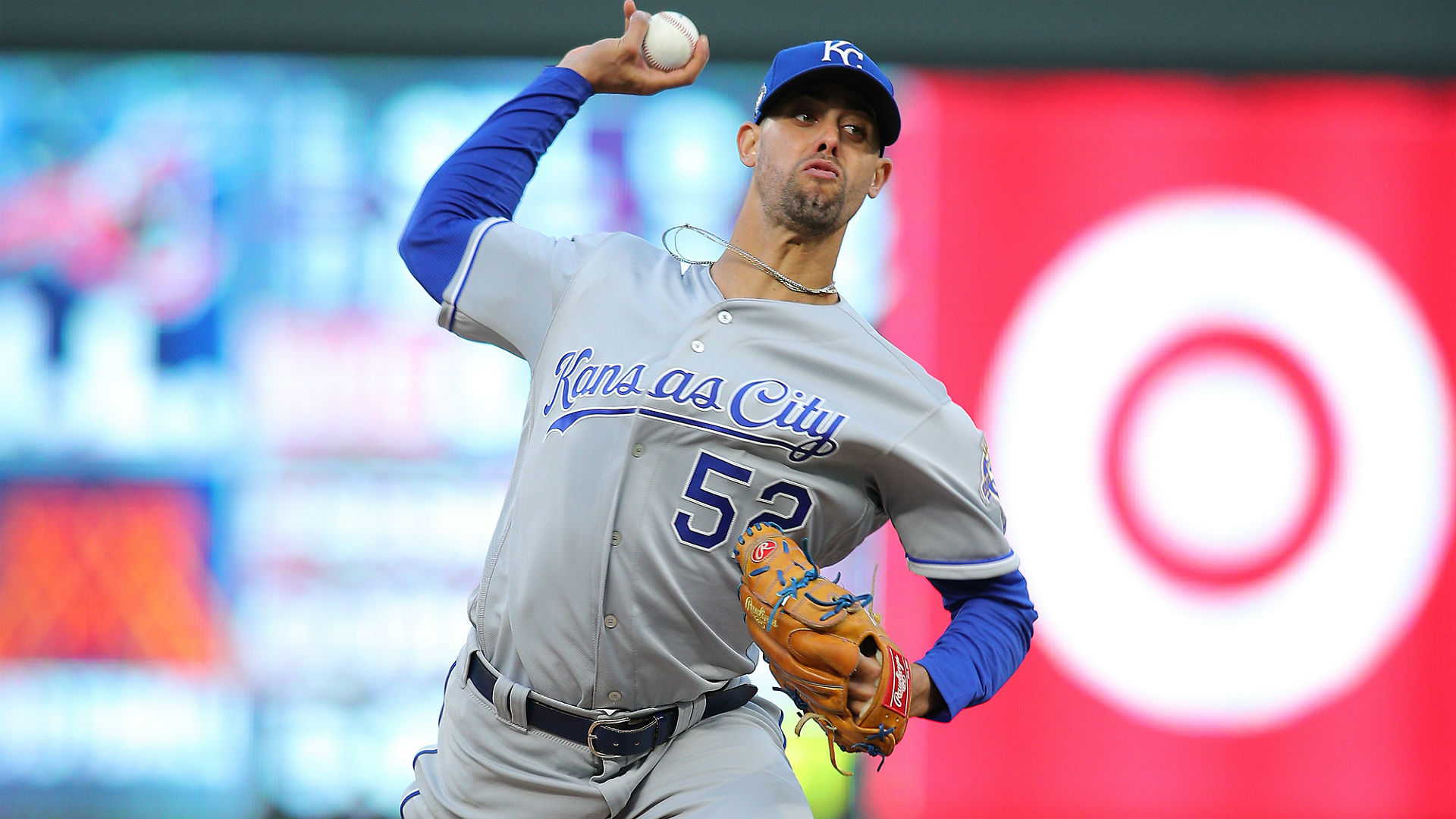 There wasn't much to be excited about in 2018. After all, when a team loses over 100 games, it's hard to find many positives. That being said, few things were as enjoyable as Jorge Lopez's near perfect game, which made a meaningless game in September against another mediocre division opponent (the Minnesota Twins) worth tuning into.
Lopez, acquired with Brett Phillips in Mike Moustakas trade, has been an enigma of sorts over his career. Drafted in the second round of the 2011 draft by the Milwaukee Brewers out of high school in Puerto Rico (Puerto Ricans are eligible for the draft since Puerto Rico is a US territory), Lopez has struggled to find a true role at the Major League level. The Brewers viewed him more as a reliever, as he only made 2 starts out of his 13 appearances with Milwaukee. On the flip side, the Royals utilized him more as a starter thus far, as 17 of his 18 appearances with Kansas City have been starts.
Unfortunately, it looks like the bullpen may be the best bet going forward for the 26-year-old right hander, as Royals beat writer Jeff Flanagan reported this from Ned Yost this afternoon on his Twitter:
As mentioned by Max Rieper on his article on Royals Review, Lopez has been more effective at the Major League level as a reliever than a starter: his ERA as a reliever is nearly four runs better (2.66 to 6.63) and his WHIP was also a bit stronger as well (1.48 to 1.59). But Lopez's profile isn't completely flawless, as his K/BB ratio, a sign of a pitcher's command, is actually stronger as a starter (2.35) than a reliever (1.13).
So, it is easy for Royals fans to go back and forth on whether the Royals would benefit more from Lopez in the rotation or in the bullpen, as the Royals have dire needs in both areas. That being said, here are two reasons why Lopez may thrive and have a serious future here if moved to the pen.
---
Lopez has made gains as a pitcher in Kansas City
Lopez's stats aren't pretty, but at the end of the day, Lopez is a better pitcher in Kansas City than he was in Milwaukee, and Cal Eldred and the Royals coaches deserve some credit for that. Since making his way westward, Lopez has struck out more batters (7.6 K/9 compared to 7.1 K/9) and walked less (3.2 BB/9 to 5.4 BB/9), a sign that his command has improved since he made his move to the western side of Missouri. Yes, his ERA and FIP are far worse (6.62 ERA to 3.69 ERA; 5.30 FIP to 3.88 FIP, respectively), but that seems to be a product from the long ball getting away from him, as his HR/9 has been pretty high as a Royals starter (1.4 HR/9 in KC compared to 0.3 with Milwaukee) rather than batters getting the best of him overall (hence, the lower WHIP in KC).
One theory behind the starter/reliever differences is that Lopez struggles to adjust when facing hitters the second and third time around in a game, as Rieger alluded to in his article. And there may be some truth to that if you focus on the 1-3 innings of his appearances compared to innings 4-6, as seen here on baseball-reference.
                                                                                        
I         Split  G   IP ER  ERA  PA  AB  R  H HR BB SO SO/W   BA  OBP  SLG  OPS TB BAbip
    Innings 1-3 19 52.1 34 5.85 234 208 35 58  9 19 46 2.42 .279 .350 .476 .826 99  .316
    Innings 4-6 18 39.1 34 7.78 183 164 31 55  8 16 31 1.94 .335 .399 .573 .972 94  .373

Provided by
Baseball-Reference.com
:
View Original Table
Generated 5/29/2019.
As you can see by the table above, there is some merit into the hypothesis that Lopez is worse the longer he stays in a game: not only is his ERA much higher in innings 4-6, but he also struggles to maintain his command (note the .5 drop in SO/BB ratio) once he sees the order a second-time around. Thus, limiting his innings in a bullpen role may be a better utilization of his skills, as he has demonstrated improvement as a pitcher as a Royal, it's just hard to notice it as a starter because he can't keep it up the deeper he gets into games.
---
Lopez's will modify his approach in a bullpen role…which may give him more impact
When starters make a move to the bullpen, they rarely keep the same approach in the transition. They drop a pitch, they gain more velocity on the fastball because they aren't trying to conserve energy, etc. Let's take a look at Ian Kennedy, who moved to the bullpen this year after an underwhelming campaign as a Royals starting pitcher.
Kennedy as a reliever: 4.15 ERA, 2.57 FIP, 10.38 K/9, 1.66 BB/9, 6.25 K/BB ratio in 21.2 IP in 2019.
As you can see, that's a marked improvement for Kennedy as a pitcher (though the ERA leaves some to be desired). However, Kennedy's transition to the bullpen also resulted in changes in his approach to make him more effective in this newfound role. His velocity on his fastball jumped up almost 2 MPH, and he relies on it more than a year ago (from 58.8 percent to 64 percent). Furthermore, Kennedy went to a three-pitch arsenal (fastball, cutter, and curve ball), rather than the four-pitch arsenal he needed as a starter (which included a changeup). His changeup has been almost non-existent, as he is using it only 1.3 percent of the time, 8.9 percent lower than a year ago. Despite dropping a pitch, with less innings and fewer batters faced, the streamlined approach has done wonders, as his other pitches have been more effective (his fastball has seen the most improvement as it had a value of negative-6.4 a year ago and now has a value of 4.9, his most effective pitch this year).
The Kennedy example shows what is possible for Lopez. Much like Kennedy, Lopez has a four-pitch arsenal, with his fastball (52.7 percent) and curveball (29.1 percent) being his most used pitches. That being said, his changeup is not only his least thrown pitch (only thrown 6 percent of the time), but also his least effective non-fastball pitch (negative-2.8 value). If Lopez can eliminate that pitch from his arsenal, and focus more on adding some heat on the fastball or developing his slider and curve ball, it wouldn't be surprising to see Lopez experience the same kind of success in the bullpen that Kennedy has had this year.
---
The good thing about Lopez is that there aren't many better arms in the system currently that are Major League ready (Brady Singer and Daniel Lynch are still a couple of years away despite their strong starts this year), so Lopez will have a season or two to prove to Dayton Moore that he belongs on this Royals team. Lopez certainly hasn't had the best start (he leads the league in losses with 6), but a role change could give him the the jolt he needs to not only help turn around his career, but also the Royals chances at being respectable in 2019.
Lopez may just have a future a middle reliever as a Royal…or Major Leaguer in general. To think he'll be another Wade Davis (failed starter turned front line closer) is overly optimistic thinking. But for a Royals club without a true closer or much dependability in the bullpen (sorry Wily Peralta ain't cutting it), Lopez could be the refreshing arm they need at this point in time, especially if he can change his approach to focus more on his strengths as a pitcher (the fastball-curve ball combo).