With the 2019 regular season about to close, one of the hot topics within Royals fan circles concerns who Dayton Moore will pursue this off-season in order to build the Royals into a more competitive club in 2020. After all, with back-to-back 100-loss seasons pretty much an inevitability at this point, and with new ownership most likely wanting to make an impact in year one to prove that the club is serious about winning again, it is likely that the Royals hot stove this Winter will be warmer than usual for a 100-loss club.
One popular name being thrown around Royals blog circles is Kyle Schwarber, the power-hitting outfielder from the Chicago Cubs. Schwarber will be arbitration eligible next season, and considering his low-average, high slugging approach and questionable defense, it seems like he may be viewed as expendable or at the very least, superfluous for the Cubs' needs next year. One popular scenario involves Schwarber being traded for Whit Merrifield, the current AL hitting leader. In many ways, it makes sense: Schwarber probably will cost more than Whit, but he is almost four years younger, and he opens things up for Nicky Lopez to take over at second base in 2020 (that is…if you believe in Nicky, of course).
Personally, I do not think Moore should pursue Schwarber…or any outfielder this off-season beyond a utility backup. Because Bubba Starling and Brett Phillips not only deserve shots at starting outfield jobs in 2020. They won't be the next Lorenzo Cain or Whit, but both Starling and Phillips have strong skill sets that make them immediate assets now, and could develop into something more should they be given more regular at-bats and some development this off-season.
Let's go into depth on each outfielder in terms of why they should be starting outfielders for the Royals on Opening Day in 2020.
---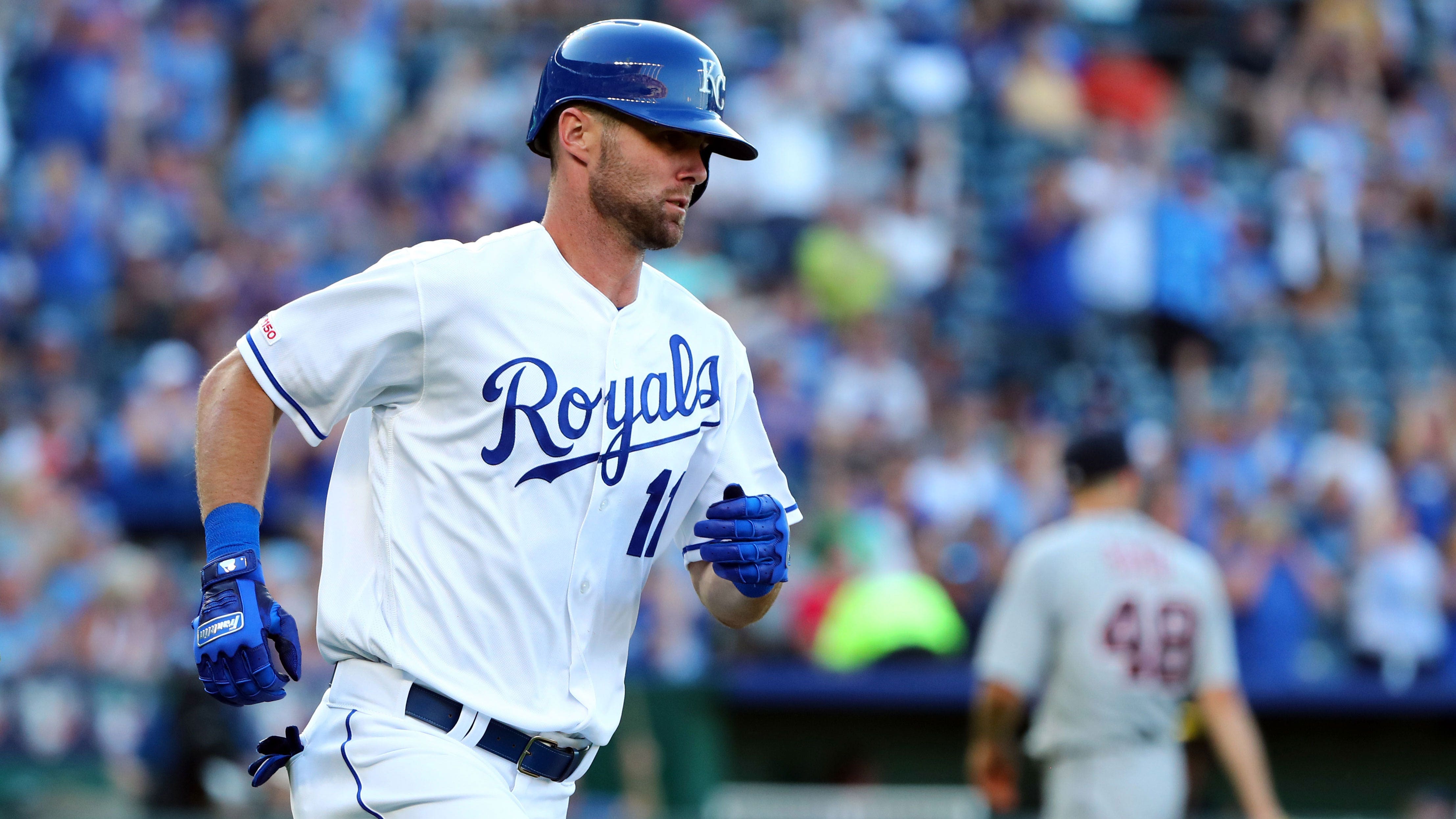 Why Starling should be starting in 2020
Last Spring, it seemed like a done deal that Starling's career in professional baseball was done. Another injury-riddled season in 2018 prompted the Royals to release him from the 40-man roster, and pretty much the reason why he was invited to Royals camp was due to the fact that no other club really wanted him. Starling appeared to be another prime example of Moore blowing another Top 10 pick in the draft.
And yet, Starling mashed in Omaha, posting a slash of .310/.358/.448 over 285 plate appearances in the Pacific Coast League. This earned Starling a call up in July, and he has been with the big league roster ever since (mostly because they have to, due to him being out of Minor League options). While he has not been a regular player since being called up to the Royals, he has showed some flashes of brilliance over 52 games and a 187 plate appearances in 2019.
Offensively, things have been a bit of a mixed bag for Starling at the Major League level. His slash isn't great at .210/.253/.307, and he is posting a wRC+ of 44, which is pretty below average. That being said, Starling was expected to struggle against Major League pitching this first go-around, as it took him a while to even adjust to professional pitching in general. It took a few tries in Triple-A before Starling started to look decent at the plate, as he came to professional ball incredibly raw, due to him playing multiple sports in high school, and a lackluster high school baseball scene (i.e. Kansas…sorry…as someone who grew up in California, the prep baseball scene is pretty mediocre). Once Starling gets more comfortable at the plate, I do believe he will become a decent hitter at the Major League level…or at least better than anything Billy Hamilton provided at the late this year.
However, despite the struggles hitting-wise, what has transitioned well for Starling at the next level is his athleticism. Defensively, while there is not a lot of data on him, according to Fangraphs, he is 0.6 runs above average. While that is not elite, it certainly bodes well for him that he is at least in the positive for such a small sample, and he bodes much better than some other defensive options that the Royals currently have (for example, Jorge Soler is about 12 runs below average). Furthermore, Starling shows potential on the basepaths, as baseball savant rates his sprint speed in the 89th percentile in baseball. So, at the very least, Starling will provide good defense and ability on the basepaths, and he should do it at a relatively cheap price and under team control for a good while as well.
The big knock on Starling is his age, as he will be 28 by next August. However, Lorenzo Cain, another raw athlete type with a history similar to Starling's (multi-sport athlete in high school), was also a late bloomer, as he didn't truly breakout until his age 28 season. While to think Starling will be the next Cain is a bit presumptuous, it is easy to see that if Starling continues to work hard this off-season (all reports talk about his strong work ethic), make significant strides at the plate in 2020, and be at least slightly below average at the dish (like a wRC+ in the 70-90 range), he could be a LoCain-lite of sorts. Just to be an average or slightly-below hitter would only complement his already plus skill sets in the field and on the basepaths. Thus, if Starling's improvement this off-season comes to fruition, he not only would be a worthy starting outfielder for the Royals, but he could also have a decent impact on the Royals in 2020 in terms of winning games due to his overall play.
---
Why Phillips should be starting in 2020
Unlike Starling, who has passed the eye test as an outfielder, but needs more data to back up his defensive prowess, Phillips impresses in both measurements when it comes to defense. According to Fangraphs, Phillips is worth 5.2 runs above average when it comes to defense, a big reason why he has a WAR of 0.5, even though he only has 69 plate appearances under his belt at the big league level in 2019. While Starling is good with the potential to be elite defensively, Phillips is arguably elite now, and would be viewed more so around MLB circles if he received more playing time in 2019 and didn't spend so much time languishing in Omaha.
The last two years at the Major League level, Phillips has been a consistent asset in the outfield. Last year, according to Baseball Savant, he was worth 6 outs above average, and posted a catch percentage of 6 percent. This season has been more of the same: 3 outs above average and a catch percentage added of 7 percent. The metrics paint a pretty picture: Phillips is a plus defender, a benefit to have in a spacious ballpark such as Kauffman. And for those who don't necessarily "buy" into the advanced stats craze, check out his throw in 2017 to gun down a runner at the plate:
So why has Phillips not been starting since Opening Day if he is so good defensively? Why did Moore opt for less-than-a year of Hamilton instead of somebody who won't hit arbitration until 2021?
Well, offensively, Phillips has a lot of holes.
First off, he literally has a lot of holes in his swing. According to Fangraphs, Phillips has a career 35.7 percent strikeout percentage and this year he is posting a triple-slash of .161/.284/.304 over 69 plate appearances. While Phillips has proven that he can handle patrolling a Major League outfield, he hasn't quite put it together in his brief Major League career thus far that he can handle big league pitching. Phillip strikes out a lot, and his inability to hit for high average is a concern. Even in Omaha this year, Phillips struggled to hit for high average, as he hit only .240 and still struck out 28.5 percent of the time…only this time against PCL pitching.
However, while many will say that Phillips is the classic "Four-A" player, I think Phillips still has time to develop into a good end of the order guy, even as soon as next year if given regular at-bats. Despite the ugly batting average and wRC+ (57), the 25-year-old outfielder's plate discipline has actually been markedly improved from a year ago. Last year, according to Fangraphs, Phillips had a swinging strike percentage of 14.9 percent and a contact percentage of 66.7 percent, which are pretty mediocre, if not bad, results. However, this year, his swinging strike percentage has dipped to 10.1 percent and his contact rate has risen to 75.9 percent. This probably can be credited to Phillips chasing less stuff out of the strike zone, a credit to his better discipline and vision at the plate. Last year, he swung at 25.9 percent of pitches outside the strike zone. This year? That percentage is under 20 at 18.9 percent.
I do not think Phillips will ever hit for high average. However, neither did Brett Gardner, and he has had a solid career as an outfielder for the New York Yankees. It is totally possible that Phillips can fill that Gardner role for the Royals in 2020 and beyond. Furthermore, considering he provides a patient skill set that is not typical for Royals hitters, it would make sense that Moore and Ned Yost should give Phillips a shot at the center field position, especially since there doesn't look to be a lot of great options available on the market that are within the Royals price range.
---
Moore and the Royals will have a lot of decisions to make when it comes to filling the outfield in 2020. Will Whit stay in the outfield or be the second baseman going forward? Will Ryan McBroom play out of position at one of the corner spots? (I think he and Ryan O'Hearn should platoon the first base position…more on this in another post). Will they grab Schwarber or look elsewhere like they did for Hamilton?
That being said, the Royals would be better off giving Bubba and Brett a shot in the OF in KC in 2020. Already, Moore made the mistake of letting a young, slightly unproven guy under team control walk away for nothing in Brian Goodwin. Now, Goodwin is tearing it up in Los Angeles, a shame considering he would have been a lot cheaper and more productive than the aforementioned Hamilton.
Maybe Bubba and Brett won't pan out like Goodwin…but I would rather have the Royals find that out due to their play at the K in 2020 rather than see it secondhand somewhere else next year.