With the Royals fresh off their first series win since April, and starting a mini-road trip on Friday against the Minnesota Twins in Minneapolis, the Kansas City Royals dropped this on Friday afternoon:
The move is not a surprising one on the O'Hearn end, as the 25-year-old first baseman's struggles in 2019 were noted by the Royals community this year after O'Hearn had a strong late season showing in 2018. Furthermore, the return of Lucas Duda to the active roster, as well as the impending return of Hunter Dozier from the IL, also signaled that O'Hearn was due for a demotion to Omaha soon.
However, the call up of outfielder Jorge Bonifacio, who has struggled in Omaha this season, was a bit surprising, as there are other options available on the Storm Chasers that probably would have been more preferred by the Royals faithful (cough…Bubba Starling). That being said, this will be an interesting cup of coffee for Bonifacio, who may be experiencing his last days as a Royal if he doesn't make the most of this opportunity.
---
I have talked about O'Hearn and his struggles before, as I felt conflicted about whether or not he should stay up in the Majors after his early struggles in May. However, since the article, things have not gotten much better for the 25-year-old slugger: he posted a slash of .188/.286/.333, an OPS of .620 and a WRC+ of 65 in 210 plate appearances this year before being sent down to Omaha. That stat line is a far cry from the .262/.353/.597, .950 OPS and 153 wRC+ he displayed in 170 plate appearances in 2018, though to be honest, some kind of regression was to be expected from O'Hearn in 2019 as opposing teams adjusted to him.
O'Hearn's biggest issue in 2019 was that he struggled to make hard and productive contact with the Royals this season. While his batting eye actually improved slightly (0.48 BB/K ratio from 0.44 a season ago), the inverse could be said about his batted ball ability from 2018 to 2019. O'Hearn became a groundball machine when he made contact with the ball in 2019, as his GB/FB ratio went from 0.75 in 2018 to 1.37 in 2019. His line drive rate fell from 19.2 percent to 14.1 percent, and his HR/FB rate went from an astronomical 25 percent to 12.2 percent. And lastly, while his medium contact percentage went up (from about 45 to 48 percent), his hard hit contact rate went down (42.3 to 35.6 percent), and soft contact went up (12.5 to 16.3 percent). What does this all mean? It means that when O'Hearn made contact with the ball, he didn't do all that much with it, not a good sign for an offensively-focused first baseman like O'Hearn.
The first-baseman's statcast numbers paint a similar picture. While the strikeouts and whiffs went down, the percentage of balls he hit on the barrel went down (12.5 to 7.4), his hard hit percentage went down (44.2 to 40.7), and the launch angle declined (17.7 to 12.2), which also shows why his GB/FB ratio increased so dramatically in 2019.
In some ways, a demotion to Omaha is probably a good thing so O'Hearn can work on what he does best: hit for power. O'Hearn struggled defensively this season, but to be honest, he also struggled defensively in his callup a year ago, as his Def (Defensive Runs Above Average) was a bit better this year (-4.9) to a year ago (-6.9). He is a big guy and isn't very mobile, so it's plausible that in reality O'Hearn will most likely shape out as a slightly more athletic Lucas Duda at the corner in terms of defense. Maybe he can work on a thing or two in Omaha, but defense isn't the primary reason he is being sent down to the PCL.
That being said, much like Duda, what will keep O'Hearn at the MLB level is whether or not he hits and hits for power. He did that last year, but this year? Not so much. It's obvious that O'Hearn is going through some issues at the plate with his swing, as he has looked lost and overwhelmed at the plate (probably due to pressing and feeling the pressure of being called down). However, some swing adjustments (he needs to find ways to generate more hard contact and less ground balls), and at-bats against Triple-A pitching could do O'Hearn a lot of good until his next call up. With the Royals' future looking bleak this season, it would not be surprising to see O'Hearn work on things for a month in Omaha, and find himself back up with the Royals by late July or early August for the stretch run.
---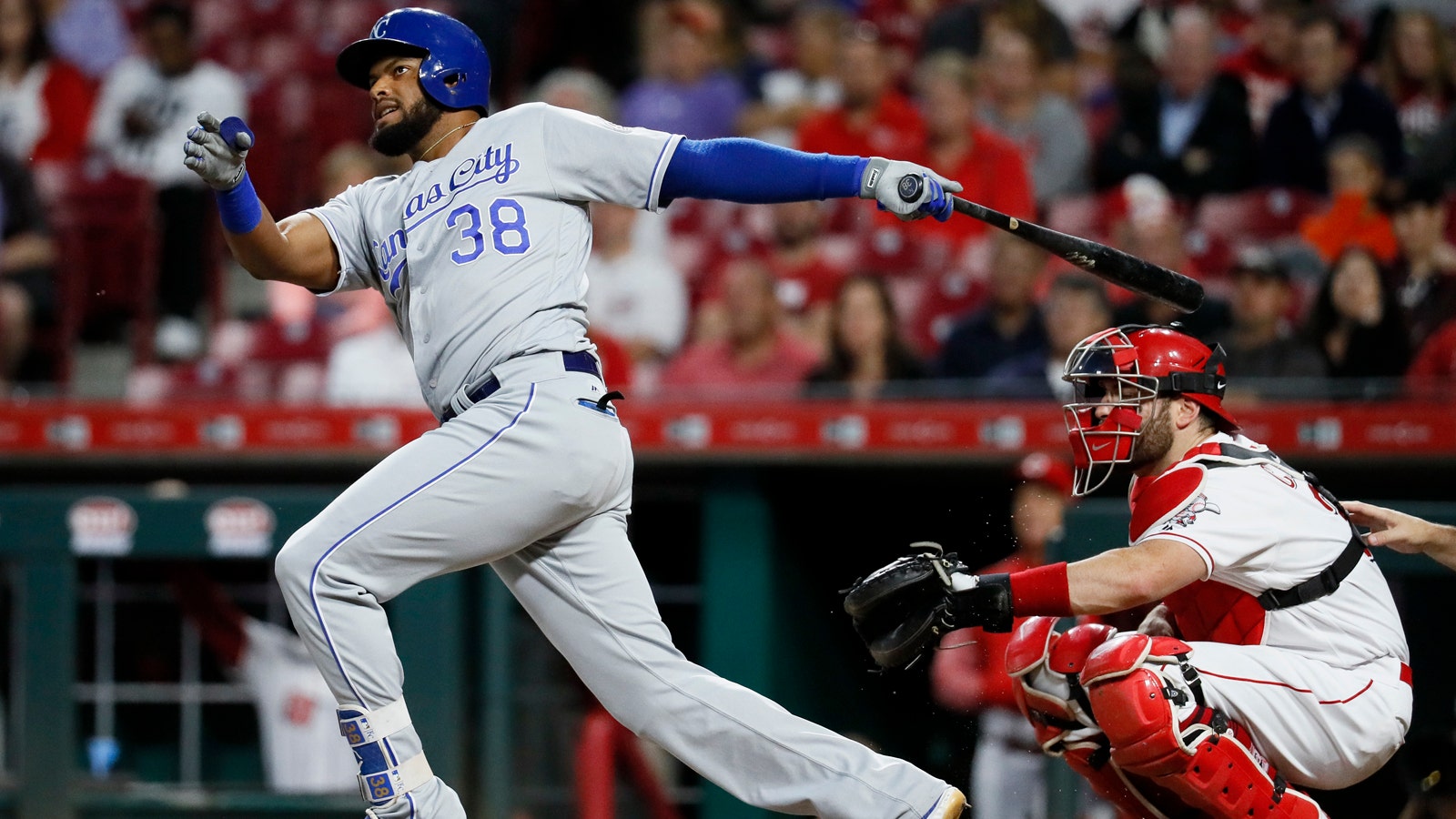 The Royals decision to bring up Bonifacio was not exactly lauded in the Royals fan community and for good reason, as a Royals fan on twitter explained below:
The Royals bringing up Bonifacio over those two is confusing at the surface. I can get not bringing up Starling due to Starling not being on the 40-man roster, and if they bring him up, he'll be out of Minor League options (which means that if they release him, they'll have to DFA him and it's unlikely he'll get through waivers like he did the first time). But Ryan brings up a solid point with Phillips: Phillips is not only hitting better than Bonifacio as of late, but he's a tremendous upgrade defensively over the plodding Boni in the outfield.
So why did the Royals bring up a defensively-challenged outfielder who posted a wOBA of .296 in 270 plate appearances in Kansas City in 2018? My guess is that this is a last hurrah for Bonifacio and Dayton Moore and the Royals are looking to see who on the 40-man will be cleared for Bubba in the coming weeks. I think that was a reason why the brought up Cheslor Cuthbert to see if he had anything left in the tank: he did, and so the Royals have kept onto him and he's been a positive surprise in their lineup ever since.
Thus, the Royals are looking at Bonifacio's call up as a roll of the dice, much like Cuthbert. Yes he's struggling this year in Omaha and did likewise a year ago in KC. However, he had a pretty decent season in 2017 (.323 wOBA, 17 home runs), so it's possible that Boni might experience some success much like Cheslor has in 2019, which gives the Royals some options when it comes to outfield depth and bats off the bench.
That being said, I think it's unlikely. I think the Royals want to prove that Bonifacio can't hack it at the MLB level, they'll release him from the 40 man, and Bubba will come in and swoop his spot at the end of month. It would be one thing if Jorge was mashing in Omaha like Cheslor, but he isn't, and he has glaring holes in his game: he has questionable range and instincts in the field and he strikes out a whole lot and struggles to make hard contact. It's difficult to see Bonifacio overcoming those deficiencies at the MLB level.
I'm not cheering against Bonifacio. I'm sure he's a good dude (though not smart, as he was busted 80 games a year ago for testing positive for PEDs), but the Royals need either guys who can produce or have potential to produce in the future, and I don't think he fits either bill.
The time is ticking on Bonifacio…and when his time as a Royals runs out, we as Royals fans can expect Bubba's to begin.